You want to make sure your customers agree with certain conditions while booking the ticket but you don't know how to do that?
No worries ticketbro got the solution for you! You just need to create a checkbox! Follow the instructions below to know how!
1. Step- Go to general info.

2. Step- Scroll down custom checkout fields and fill the needed informations.

3. Step- Click on save.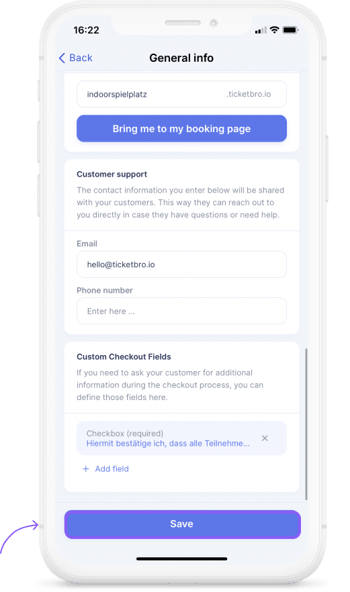 Voila your individualized checkbox is activated!
---
FAQs
Can I search or filter according to my customers' information?

No, a search or filtering is not possible due to individual input options by your customers.

How can I delete a field again?

A field can be deleted by clicking the small "x" symbol behind the respective field and then saving your changed settings.

Can I edit a field afterwards?

Unfortunately, it is currently not possible to edit a field retrospectively. If you want to change something, you have to delete the existing field and briefly create a new one.
---
Is there something still missing?
Don't worry, just write us a comment or an e-mail to lou@ticketbro.io and we will add the desired instructions as soon as possible. ✌️