Many companies work with different accounts and company codes.
So that you or your tax advisor don't get confused, we have developed the option for you to store your individual accounts.
1. Step- Open your Menu and click on "Wallet".

2. Step- Click on "Create report".

3. Step- Fill all the needed informations and click on "Send report".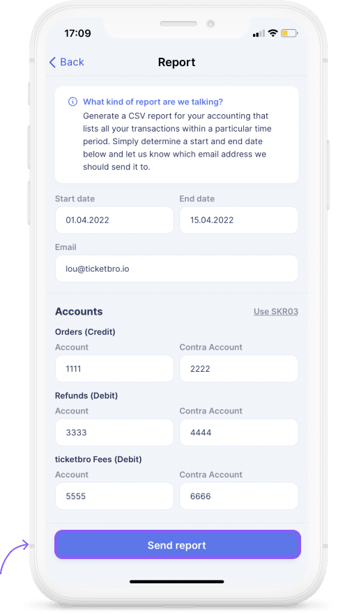 Voila! Your report is created and sent to you per email!
---
FAQs
Are the saved accounts saved for the next report?

Yes, we automatically save the accounts you have entered so that you only have to enter them once.

What do I do if I or my tax advisor works with SKR04?

No problem. Just ask your tax advisor which accounts you should deposit. Then you enter the maximum of 6 numbers.

Can I send the report to a different email?

Yes! you can type any email you need.
---
Is there something missing?
Don't worry, just write us a comment or an e-mail to lou@ticketbro.io and we will add the desired instructions as soon as possible.✌️