You need an overview about the most important information of your selected tickets but you have no idea how to do it? Follow the screenshots below to discover how!
1.Step - Go to Menu and click on "Show calendar".

2.Step - Click on the printing sign.

3.Step - Fill the needed informations then click on "send pdf".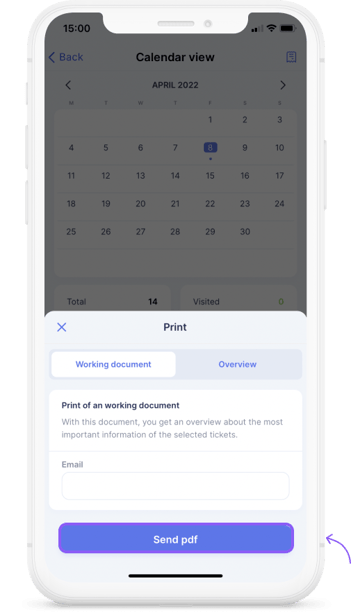 Please note:
Working document is an overview of the most important information of the selected tickets.
Overview can be based for further internal processes.
Volià the informations are sent successfully🔥
---
FAQs
How many papers can I print in maximum?

You can print as many as you wish!

Can I send it to several emails?

Sure you can, but you need to do it each separately.

Can I have an overview before printing?

Yes, of course you just need to click on overview before sending.
---
Is there something still missing?
Don't worry, just write us a comment or an e-mail to lou@ticketbro.io and we will add the desired instructions as soon as possible. ✌️